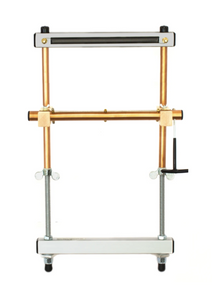 Mirrix Looms
Tall Edition 12" Mirrix Loom
Regular price
$435.00
$435.00
Unit price
per
Mirrix Looms are beautifully built, portable copper and aluminum looms. They are designed specifically for weaving tapestries, rugs and beads. When you weave on a Mirrix you can focus on weaving those things knowing your loom is meant for the job! Your loom comes with a shedding device which offers two available sheds operated by a comfortable handle.
The Tall 12" Mirrix Loom is the smallest Mirrix loom that I (Janna at Everlea) recommend for weaving tapestry, as the regular-height 12" Mirrix's shorter height makes accessing your shed significantly more difficult to maneuver weft through. Since the release of this tall edition loom, I think of the regular height 12" Mirrix as meant for bead weaving and this one as meant for tapestry.
Tall 12" Mirrix Loom stats:
Maximum Weaving Width: 9"
Maximum Weaving Length 32"
Loom Width: 12"
Weight: 4.6 lbs
Comes with: Four coils: 8, 12, 14, 18 dents, shedding device and handle, two wooden clips, warping bar, flat wrench, allen wrench, coil bar and written instructions
In addition to the items that come with your Mirrix Loom you will need heddles. Heddles can be made by you by hand or you can purchase Texolv Heddles from us.
No assembly required. Mirrix Looms are made in the USA. This item is ready-to-ship from British Columbia.
---
Share this Product
---